Guy Giard at the Association for Applied Therapeutic Humor
Category: Wellbeing
Availability: In person and virtual
Target audience: Executives, professionals and entrepreneurs
Duration: up to 60 minutes, multiple session programs available
The 5 Levels of Consciousness
In this presentation, Guy Giard will discuss the benefits of the five levels of consciousness: Mental, Emotional, Sensory, Spiritual and Existential. Each of these dimensions has a specific function, and that's what we'll be exploring - how to find, develop and use them to enjoy the life we want. Through his own experiences of transformation, he will pass on techniques that everyone can adapt to their own lifestyle.
These techniques include, but are not limited to, the benefits of passion, purpose, forgiveness and spontaneity, the benefits of passion, purpose, forgiveness and spontaneity. Our mental and physical health will improve considerably through the practice of renewal will improve considerably through the practice of renewal in these five dimensions, improving our quality of life and bringing us joy improving our quality of life and bringing us joy in our years.
The Courage to Love
The pandemic has radically changed our daily lives, bringing with it the fear of social isolation, relationship and family tensions, and the stress of job and income loss. How can we regain our well-being and quality of life? Guy Giard, humanitarian clown with Dr. Patch Adams, proposes in this fun, inspirational and practical workshop to reconnect with the human in us, source of motivation, creativity and resilience, by rediscovering our dreams, our passions and our reason for being, for ourselves and our relationships
Objectives: Learning and practice of 5 tools of self-awareness
- Better management of stress and emotions
- Reduced absenteeism
- Increased concentration
- Calmer and more balanced demeanor
- Better quality of life
- Hopeful and optimistic outlook.
Guy Giard is a professional artist and speaker since 1990. A graduate in Visual Arts, Certified Humor Professional (CHP) and Certified Laughter Yoga Facilitator, he has been a humanitarian clown with Dr. Patch Adams in orphanages and hospitals on three continents. He has led creative workshops for adults and school children at the Louvre Museum in Paris, the Montreal Museum of Fine Arts and the Canadian Centre for Architecture. He is listed in the Répertoire de ressources culture-éducation which is associated with the program La culture à l'école as well as the Répertoire des offres d'animation des Bibliothèques de Montréal. He regularly offers workshops at the annual convention of the Association Provinciale des Enseignantes et des Enseignants du Québec (APEQ).
Today he is a Wellbeing Coach and offers conferences and workshops on the benefits of laughter, humanitarian clowning and hope after abuse. (Also tailored to your needs)
Guy Giard is based in Montreal, Canada
Contact can be made in English or French
I will generally respond within 24-48 hours
but I apologize in advance if I miss your email.
If I have not responded within 3 days, please resend your message.
I check my email mid-morning, just before lunch and/or late afternoon on weekdays.
You can also send me a message by telegram
or whatsapp or text me at (1) 438-388-5654
or call (1) 514-989-2350 for circumstances that require more immediate attention.
If I cannot respond directly, please allow me 24 hours to respond.
Thank you and I look forward to hearing from you.
Have a great day.
Other talks offered in French or English
« Les bienfaits du yoga du rire pour votre santé »
Saviez-vous qu'une minute de yoga du rire équivaut à 10 minutes d'exercice et qu'il est pratiqué par des millions de personnes dans plus de 100 pays à travers le monde? Non seulement le rire réduit le stress et la pression artérielle, il renforce également le système immunitaire et améliore la fonction cognitive. Guy Giard, auteur et animateur certifié de yoga du rire, a aidé des milliers de personnes en tant que clown humanitaire avec le Dr Patch Adams au Guatemala, au Pérou, en Inde et en Russie. Dans cette présentation, Guy Giard va nous présenter son parcours de clown humanitaire et animer une session de yoga du rire.
« Clown humanitaire avec le Dr Patch Adams »
Aimeriez-vous contribuer à un monde meilleur? Apporter de la joie et de la guérison aux gens qui en ont le plus besoin? Venez découvrir comment une personne peut faire une différence! Guy Giard, auteur, fait du bénévolat comme un clown humanitaire avec le Dr Patch Adams, amenant joie et espoir aux enfants et à leurs aidants. Dans cette présentation, il fera revivre à travers des histoires, des photos et des clips vidéo ses voyages au Guatemala, au Pérou, en Inde et en Russie. Dr Adams dit de lui : « Je ressens vraiment sa passion pour une vie radieuse, utilisant le clown comme un outil pour aider à créer un monde d'amour. Le fait d'entendre sa propre transformation pour apporter une âme aimante inspirera d'autres personnes à l'essayer. Laissez-le faire briller votre environnement ». Une présentation inspirante pour affronter et surmonter vos propres défis et réaliser vos propres rêves !
« 5 outils pour retrouver espoir après l'abus »
Guy Giard, auteur, nous présente 5 outils destinés à toute personne ayant subi des abus de quelque nature que ce soit, ainsi que pour les proches aidants et à toute personne désireuse de retrouver leur bien-être. Dans son autobiographie Le Courage d'Aimer (disponible sur Amazon, Kobo, Apple), il fait revivre près de soixante ans d'aventures incroyables, parfois humoristiques, souvent émouvantes et même choquantes suite aux abus subis dans sa tendre enfance. Dans son récit qui se lit comme un roman captivant, Guy met son âme à nu et révèle les chemins de sa guérison de ses souvenirs refoulés, de son syndrome de stress post-traumatique, de ses pensées suicidaires et de son manque d'estime de soi jusqu'à retrouver l'espoir et le bien-être. Une présentation qui redonne espoir en votre pouvoir de guérison et de bien-être.
Contact : guygiard@hotmail.com, 514-989-2350
Guy Giard est basé à Montréal, au Canada
Le contact peut se faire en anglais ou en français
Je répondrai généralement dans les 24-48 heures
mais je m'excuse à l'avance si je manque votre courriel.
Si je n'ai pas répondu dans les 3 jours, veuillez renvoyer votre message.
Je consulte mon courrier électronique en milieu de matinée, juste avant le déjeuner et/ou en fin d'après-midi les jours de semaine.
Vous pouvez également m'envoyer un message par télégramme
ou whatsapp ou m'envoyer un texto au (1) 438-388-5654
ou appelez le (1) 514-989-2350 pour les circonstances qui exigent une attention plus immédiate.
Si je ne peux pas répondre directement, veuillez me laisser 24 heures pour vous répondre.
Merci et au plaisir d'avoir de vos nouvelles.
Passez une excellente journée.
TESTIMONIALS
"We have had the privilege to have Guy on 5 of our clown trips. He is a big, soft hearted soul, whose radiant smile has brought much glee and stimulation for the trips. He and I have spoken often and I truly feel his passion to living radiant, using clowning as a tool to help midwife a loving world. To hear of his own transformation to bring a loving soul will inspire others to try it on. Let him sparkle your environment."
- Dr. Patch Adams, American physician, comedian, social activist, clown, and author.
He founded the Gesundheit! Institute in 1971.
"I want to express my deepest gratitude for believing in me. You have been an excellent friend, teacher, mentor and a great inspiration for me. You have inspired me to pursue my goals with hard work and dedication. The knowledge you have imparted to me has been a great asset. I truly appreciate and value everything I have learned from you. It will forever remain a major contributor behind my success and achievements. Thank you, once again, for your time, support and patience."
- Giri Dharan Director, Founder of Third Hand Foundation: feeding the homeless in the streets of India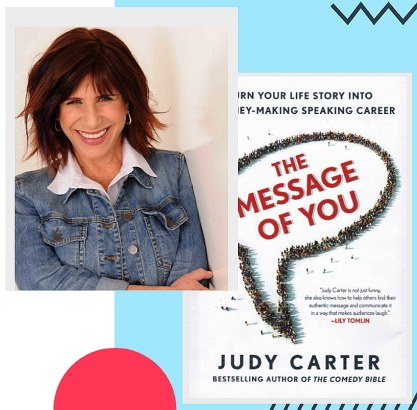 "To Guy. Never forget that you have a gift. A gift of resilience. And for those who don't have that and are still suffering - it is your life purpose to heal others. Keep open to the gifts the universe gives you. With love. Thank you"
Judy Carter, American comedian, motivational speaker and author of four books on comedy and self-improvement
The Alzheimer Society of Montreal had the pleasure of having M. Guy Giard present a Laughter Yoga workshop. This was an event for caregivers, a luncheon to honor them and allow a time of laughter, sharing and respite. M. Giard was dynamic, enthusiastic, and instantly captured the attention of our group. Within moments, a group that did not previously have contact with one another were laughing, shaking hands, interacting and sharing with one another.
- April Hayward, Director Programs and Services, The Alzheimer Society of Montreal
Standing ovations in Chicago and Montreal!
Love's Healing Journey: Exceed your limits!
Three Pillars of Happiness: Tools to reach your goals!
Merci pour les webinars, voici les fichiers à télécharger
Guy Giard Ecouter Aimer Creer Octobre 2021
Cliquer ci-dessous
Sign up for my newsletter
for updates on my books, concerts and talks.
Clic under for more creative pages to explore