Talks in French, English, bilingual and even Dutch!
Available online and at your conférence all over the world!
Guy Giard offre trois conférences puissantes et inspirantes à l'intention des victimes, amis, familles, aidants naturels et professionnels de la santé. En tant qu'artiste, musicien et clown humanitaire avec le Dr Clown Patch Adams, il partage ouvertement son parcours de guérison des abus sexuels qu'il a subit pendant l'enfance.
Guy Giard offers three powerful and inspiring talks for victims, friends, families, caregivers and health care professionals. As an artist, musician and humanitarian clown with Dr. Clown Patch Adams, he openly shares his journey of healing from childhood sexual abuse.
Abordant ce sujet sensible et chargé d'émotions avec amour, humour, vulnérabilité et humilité, il enseigne les 3 étapes de son programme d'Expression du Soi Intérieur: Écouter - Aimer - Créer. Ces 3 étapes ont transformé les douloureuses conséquences de l'abus sexuel en sérénité, appartenance et abondance par une vie riche, positive, puissante, remplie de joie et de sens.
Le docteur 'Patch' Adams écrit à propos de Guy Giard : 'Je sens vraiment sa passion de vivre rayonnante ; l'entendre parler de sa propre transformation en une âme aimante inspirera les autres à l'essayer'.
Approaching this sensitive and emotionally charged subject with love, humor, vulnerability and humility, he teaches the 3 steps of his Inner Self Expression program: Listening - Loving - Creating. These 3 steps have transformed the painful consequences of sexual abuse into serenity, belonging and abundance through a rich, positive, powerful, joyful and meaningful life.
Doctor 'Patch' Adams writes about Guy Giard: I truly feel his passion for living radiant; hearing him speak of his own transformation into a loving soul will inspire others to try it.
3 Conférences sont offertes:
« VOYAGE DE GUÉRISON ET D'AMOUR »
Créer une vie merveilleuse au-delà des abus sexuels.
« IMAGINEZ ÇA! »
La créativité pour retrouver le pouvoir de choisir Soi Authentique.
« LA TRANSFORMATION CLOWNESQUE! »
Exaucer ses rêves transforme sa vie et celle des autres.
Téléchargez la programmation en français ci-dessous
Association for Applied Therapeutic Humor
TESTIMONIALS
« Nous avons eu le privilège d'avoir Guy lors de cinq de nos voyages de clown. C'est une grande âme au cœur tendre, dont le sourire radieux a apporté beaucoup de joie et de stimulation pour les voyages. Lui et moi avons souvent parlé et je ressens vraiment sa passion de vivre, radieuse, en utilisant le clown comme outil pour aider à enfanter un monde d'amour. Entendre parler de sa propre transformation en une âme aimante inspirera les autres à l'essayer. Laissez-le étinceler votre environnement. »
-- Dr. Patch Adams
"We have had the privilege to have Guy on 5 of our clown trips. He is a big, soft hearted soul, whose radiant smile has brought much glee and stimulation for the trips. He and I have spoken often and I truly feel his passion to living radiant, using clowning as a tool to help midwife a loving world. To hear of his own transformation to bring a loving soul will inspire others to try it on. Let him sparkle your environment."
- Dr. Patch Adams, American physician, comedian, social activist, clown, and author.
He founded the Gesundheit! Institute in 1971.
« Je tiens à exprimer ma plus profonde gratitude pour avoir cru en moi. Vous avez été un excellent ami, professeur, mentor et une grande inspiration pour moi. Vous m'avez inspiré à poursuivre mes objectifs avec beaucoup de travail et de dévouement. Les connaissances que vous m'avez transmises ont été un grand atout. J'apprécie et valorise vraiment tout ce que j'ai appris de vous. Il restera à jamais un élément majeur de mon succès et de mes réalisations. Je vous remercie encore une fois pour votre temps, votre soutien et votre patience. »
- Giri Dharan Directeur, fondateur de la Fondation Third Hand : nourrir les sans-abri dans les rues aux Indes
"I want to express my deepest gratitude for believing in me. You have been an excellent friend, teacher, mentor and a great inspiration for me. You have inspired me to pursue my goals with hard work and dedication. The knowledge you have imparted to me has been a great asset. I truly appreciate and value everything I have learned from you. It will forever remain a major contributor behind my success and achievements. Thank you, once again, for your time, support and patience."
- Giri Dharan Director, Founder of Third Hand Foundation: feeding the homeless in the streets of India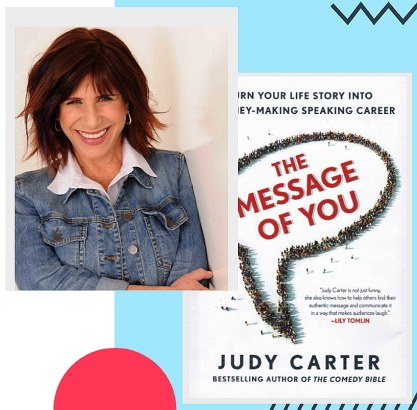 « A Guy : N'oubliez jamais que vous avez un don. Un don de résilience. Et pour ceux qui ne l'ont pas et qui souffrent encore, c'est le but de votre vie de guérir les autres. Restez ouvert aux dons que l'univers vous offre. Avec amour, merci. »
-- Judy Carter, comédienne américaine, conférencière sur la motivation et auteur
"To Guy. Never forget that you have a gift. A gift of resilience. And for those who don't have that and are still suffering - it is your life purpose to heal others. Keep open to the gifts the universe gives you. With love. Thank you"
Judy Carter, American comedian, motivational speaker and author of four books on comedy and self-improvement
La Société Alzheimer de Montréal a eu le plaisir de recevoir M. Guy Giard pour présenter un atelier de yoga du rire. Il s'agissait d'un événement pour les aidants, d'un déjeuner en leur honneur et d'un moment de rire, de partage et de répit. M. Giard était dynamique, enthousiaste et a immédiatement capté l'attention de notre groupe. En quelques instants, un groupe qui n'avait jamais été en contact auparavant a ri, s'est serré la main, a interagi et partagé avec les autres.
- April Hayward, directrice des programmes et services, Société Alzheimer de Montréal
The Alzheimer Society of Montreal had the pleasure of having M. Guy Giard present a Laughter Yoga workshop. This was an event for caregivers, a luncheon to honor them and allow a time of laughter, sharing and respite. M. Giard was dynamic, enthusiastic, and instantly captured the attention of our group. Within moments, a group that did not previously have contact with one another were laughing, shaking hands, interacting and sharing with one another.
- April Hayward, Director Programs and Services, The Alzheimer Society of Montreal
Whatever your past or present circumstances
YOU CAN LIVE OUT YOUR DREAM LIFE
Guy Giard & Dr. Patch Adams in Russia
Guy Giard est un artiste exposant depuis plus de 40 ans. Passionné, écrivain, conférencier, musicien et professionnel de l'humour, il a été clown humanitaire bénévole "Uku" avec le Dr. Patch Adams et donne des conférences et des ateliers sur la guérison des abus sexuels sur les enfants et la création d'une vie étonnante.
Guy Giard is a passionate exhibiting artist, writer, lecturer and humor professional. Musician and all around funny guy, he has volunteered as the humanitarian clown "Uku" with Dr. "Patch" Adams. He currently gives lectures and workshops on healing from child sexual abuse and creating an amazing life.
Standing ovations in Chicago and Montreal!
Love's Healing Journey: Exceed your limits!
Three Pillars of Happiness: Tools to reach your goals!