Guy Giard
Art Contemporain
The Gate / Le portail
Amsterdam
The gate / Le portail
Amsterdam, Pays- Bas
Cette oeuvre fut construite lors de ma première année d'étude à la Rijskakademie van Beeldende Kunsten d 'Amsterdam, Pays-Bas. Deux versions ont été exécuté, une en trois dimensions avec masonite, bois et ruban masque, la deuxième avec du fusain sur différentes feuilles de papier.
La version papier a été exposé à deux reprises à la Galerie Erik Hoffmann, en 1989 et en 1991.
Certaines photos sont cliquables pour les grands formats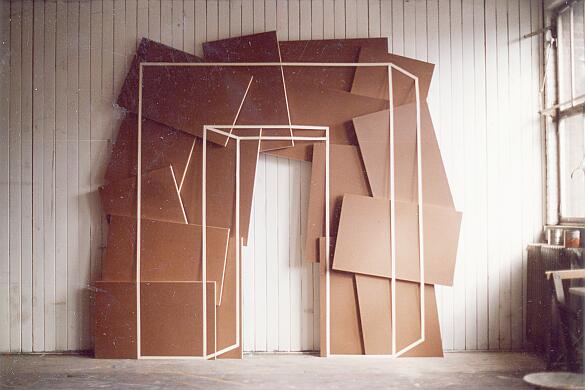 The Gate / Le Portail version scultpure, 1988
Oeuvre connexe:
Space
Masonite et bois, 1988
Le vide, l'absence, thème que l'on retrouve à différentes périodes de mon travail.
GUY GIARD, CHP, CLYL, MFA
Author, Speaker, Consultant
"My memoir offers a 50-year long journey in healing
from the consequences of childhood sexual abuse
with art, music and humanitarian clowning missions
with Dr "Patch" Adams.
Available as Ebook, paperback and hardcover in French & Spanish
Coming in 2021 in English
Sign up for my newsletter
Guy Giard Keynotes and Workshops
For information
By telephone (514) 989-2350